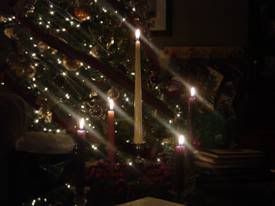 Today is the first Sunday of Advent for the year 2014. Advent is my favorite season of the year, and this year is a special year for my family because, for the first time ever, our celebration will be exclusive to orthodox (small "o") Christianity. Previously, I would incorporate elements of my husband's religion into our celebration, and while we made it a beautiful thing and it worked for us, one of the silver linings of divorce has been looking forward to raising my family in just my own faith. This is the first year that I get to apply that to the Advent season.
One of the things I love about Advent is that it's about birth. It's a season in which we reflect on the birth of Jesus Christ and the events leading up to that. It's important to remember the depths of Israel's despair just prior to the birth of Jesus Christ on account of the Roman captivity. As the Christmas hymn goes, "O come, Emmanuel, and ransom captive Israel."
One week before my son Constantine's due date, my heart knew despair. My blood pressure at my latest prenatal check-up had come back high, leaving me worried that I would develop late-term pre-eclampsia as I had in my pregnancy with my daughter. I was still working full-time because my family needed the money and I was effectively the sole earner in the family. My then-husband had just done something appallingly self-centered and hurtful, something that made it clear to me that the marriage was doomed and he cared not one whit about my pending labor or rising health problems. My doctor, whom I had a good relationship with and really wanted at the delivery, was out of town (for good reasons), my pastor was also out of town, and I had no family in the Chicago area. I remember telling my doula that if I went into labor then, it was going to be a perfect storm of no support. I faced the danger of going through labor effectively alone. (Yeah, my doula would have been there, but only because she was paid to be there!) I was captive to a wide range of depressing circumstances that were completely beyond my control.
The Bible speaks to depression and pain. The IVP Women's Bible Commentary notes:
"God strengthen me to bear myself; that heaviest weight of all," wrote Christina Rossetti (1830-1894) before medicalization of the human condition made the word depression popular. Few people reading this will not have felt like her at some point in their lives. It should not surprise us, therefore, to find that many great people in the Bible experienced depression. People like Hagar, with nothing left (Gen 21:15-16); Naomi, returning "empty" (Ruth 1:21); Hannah, anorexic and sad for years (1 Sam 1:8); Tamar, grieving the loss of something she would never have (2 Sam 13:19).

Scripture never shrinks from pointing to a God "who consoles the downcast" (2 Cor 7:6). Nonetheless, depression tends to deaden the sense of God's presence for even the most committed Christian. This could be why we are often told the sadder details of many lives in Scripture, which contains an extraordinary mass of evidence that God notices and cares about even the most private, complicated pain." [1]
As I struggled with my marital situation right up till my due date (and 9 days past it!), I had the hope that the birth of my child would restore joy to my troubled soul. And as they struggled with their captivity and subjugation to the Romans, the people of Israel looked to the hope that would come with the birth of a child. For God saw every tear, every fragment of their pain, and he had not forgotten them.
This Advent Sunday, I will gather my little single-parent family together and light the first candle (purple) on our Advent wreath, and we will sing "O Come, O Come, Emmanuel." May you find hope in the midst of whatever troubles you may be facing.
Scriptures for this Advent Sunday: [2]
Isaiah 63:16b-17, 19b, 64:2-7 ~ [Y]ou, Lord, are our Father, our Redeemer from of old is your name. Why, Lord, do you make us wander from your ways and harden our hearts so we do not revere you? Return for the sake of your servants, the tribes that are your inheritance. . . . [B]ut you have not ruled over them, they have not been called by your name. . . . As when fire sets twigs ablaze and causes water to boil, come down to make your name known to your enemies and cause the nations to quake before you! For when you did awesome things that we did not expect, you came down, and the mountains trembled before you. Since ancient times no one has heard, no ear has perceived, no eye has seen any God besides you, who acts on behalf of those who wait for him. You come to the help of those who gladly do right, who remember your ways. But when we continued to sin against them, you were angry. How then can we be saved? All of us have become like one who is unclean, and all our righteous acts are like filthy rags; we all shrivel up like a leaf, and like the wind our sins sweep us away. No one calls on your name or strives to lay hold of you; for you have hidden your face from us and have given us over to our sins.
Psalm 80:2-3, 15-16, 18-19 ~ [B]efore Ephraim, Benjamin and Manasseh. Awaken your might; come and save us. Restore us, O God; make your face shine on us, that we may be saved. . . . [T]he root your right hand has planted, the son you have raised up for yourself. Your vine is cut down, it is burned with fire; at your rebuke your people perish. . . . Then we will not turn away from you; revive us, and we will call on your name. Restore us, Lord God Almighty; make your face shine on us, that we may be saved.
1 Corinthians 1:3-9 ~ Grace and peace to you from God our Father and the Lord Jesus Christ. I always thank my God for you because of his grace given you in Christ Jesus. For in him you have been enriched in every way—with all kinds of speech and with all knowledge— God thus confirming our testimony about Christ among you. Therefore you do not lack any spiritual gift as you eagerly wait for our Lord Jesus Christ to be revealed. He will also keep you firm to the end, so that you will be blameless on the day of our Lord Jesus Christ. God is faithful, who has called you into fellowship with his Son, Jesus Christ our Lord.
Mark 13:33-37 ~ Be on guard! Be alert! You do not know when that time will come. It's like a man going away: He leaves his house and puts his servants in charge, each with their assigned task, and tells the one at the door to keep watch. "Therefore keep watch because you do not know when the owner of the house will come back—whether in the evening, or at midnight, or when the rooster crows, or at dawn. If he comes suddenly, do not let him find you sleeping. What I say to you, I say to everyone: 'Watch!'"
Romans 13:11-12 ~ And do this, understanding the present time: The hour has already come for you to wake up from your slumber, because our salvation is nearer now than when we first believed. The night is nearly over; the day is almost here. So let us put aside the deeds of darkness and put on the armor of light.
—————



[1] Lisa Katherine Battye, "Depression," in the Isaiah section of The IVP Women's Bible Commentary, edited by Catherine Clark Kroeger and Mary J. Evans (Downers Grove, Ill.: InterVarsity Press, 2002.
[2] Our Advent Scripture reflections for this year are being guided by Sharing the Word: Scriptural Reflections for Advent by Archbishop Daniel E. Pilarczyk (Cincinnatti, Oh.: 1989). I picked the book up from our local Bible store for about $4. This year is "Advent Year B." Bible quotations above are from the NIV.