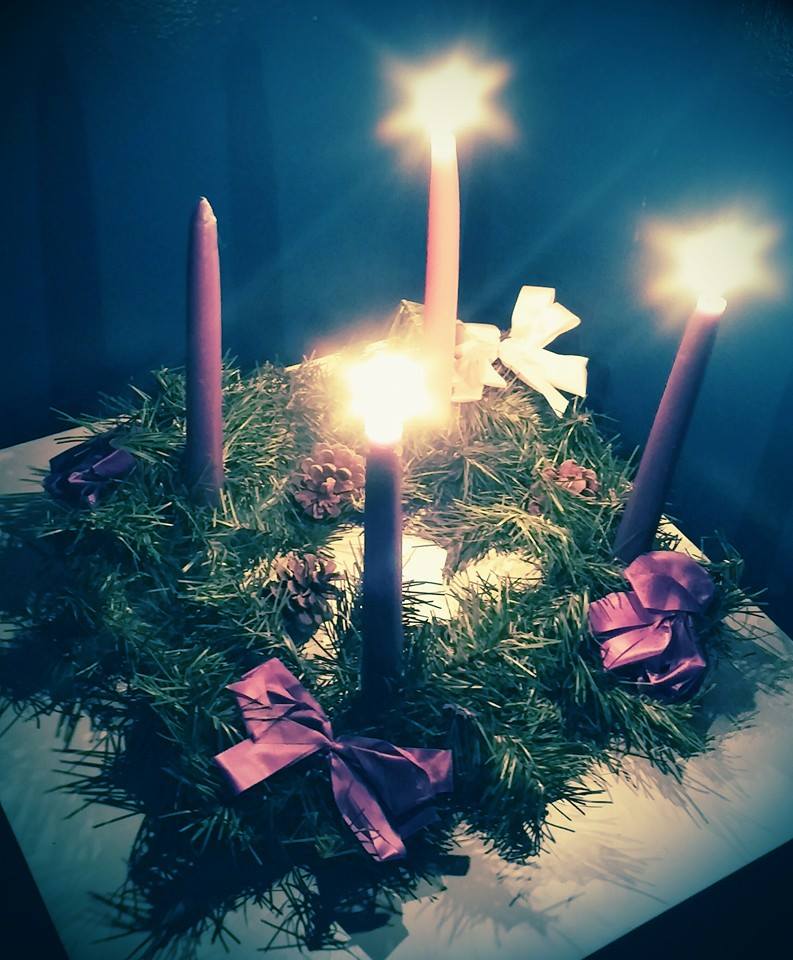 I thought I knew what "crazy" and "hectic" was.
And then I became a single mom.
In the past three weeks, I have:
Decorated a Christmas tree
Been shoved by a man not once but twice, which prompted me to pull out my cell phone and threaten to call the police and press battery charges if he touched me again
Gone Christmas shopping several times (I had bought nothing when the month of December began)
Wrapped a few dozen presents
Seen my 14 month-old son develop a fever that got to 103.8 degrees
Struggled financially due to my ex-husband being unemployed and unable to pay child support
Called the police from a Chicago Red Line station on account of a man and a woman who were fighting on the platform loudly and intensely
Attended the settlement conference for a lawsuit
Contracted a cold and then recovered from it
Gone to my daughter's IEP conference
Hung stockings
Seen my daughter sent home from school due to a fever of 101 (no, really, with all the illness in my household this month, I've been the veritable mayor of Boogertown, USA)
Baked chocolate rum balls, key lime pies, and I have sugar cookie dough cooling in the refrigerator as I write this
Cleaned, cleaned, organized, and thrown away
The Fourth Sunday of Advent is about peace. What is Christian peace? What is שָׁלוֹם (šālôm)?
The Dictionary of Jesus and the Gospels had this to say about the New Testament's use of shalom, "peace":
The Hebrew term for peace means "well-being" (e.g., Num 25:12; Ps 38:3; 73:3; Jer 14:13; cf. P. B. Yoder). It covers health, prosperity, security, friendship and salvation. It is the desired experience of individuals, families and Israel as a nation. It is present because of God's own presence and his favor toward his people. The Greek term eirēnē in classical Greek literature means little more than absence of war. In the NT, however, it incorporates the breadth of meaning conveyed by the Hebrew šālôm.

This can be sensed in passages like Mark 5:24-34. Verse 29 reports the physical healing of a socially and religiously unclean woman. Jesus, not content to provide mere physical relief, exposes the woman's secrecy, publicly discloses her faith and her healing, and thus effectively restores her to the community and wholeness. Jesus "saves" her (5:34). His final "Go in peace" is more than a parting blessing. It is the bestowal of šālôm, the gift Jesus gives whenever he ministers to needy people. [1]
I think that knowing God's peace isn't necessarily about not encountering adverse circumstances. It isn't about an immediate end of money troubles, or an end of illness, or an end of stupid crap from your troublesome ex. It's about facing those things firm in the knowledge that God is in control and, in the end, it will all work out for your own good as someone who loves Him.
I've dealt with my share of troublesome things this past month. I've also had a lot of peace. It's been a gift from God. I hope you are able to find peace this Advent Sunday, too.
Scriptures for this Advent Sunday: [2]
2 Samuel 7:1-5, 8b-12, 14a, 16 ~ After the king was settled in his palace and the Lord had given him rest from all his enemies around him, he said to Nathan the prophet, "Here I am, living in a house of cedar, while the ark of God remains in a tent." Nathan replied to the king, "Whatever you have in mind, go ahead and do it, for the Lord is with you." But that night the word of the Lord came to Nathan, saying: "Go and tell my servant David, 'This is what the Lord says: Are you the one to build me a house to dwell in? . . . I took you from the pasture, from tending the flock, and appointed you ruler over my people Israel. I have been with you wherever you have gone, and I have cut off all your enemies from before you. Now I will make your name great, like the names of the greatest men on earth. And I will provide a place for my people Israel and will plant them so that they can have a home of their own and no longer be disturbed. Wicked people will not oppress them anymore, as they did at the beginning and have done ever since the time I appointed leaders over my people Israel. I will also give you rest from all your enemies. "'The Lord declares to you that the Lord himself will establish a house for you: When your days are over and you rest with your ancestors, I will raise up your offspring to succeed you, your own flesh and blood, and I will establish his kingdom. . . . I will be his father, and he will be my son. . . . Your house and your kingdom will endure forever before me[b]; your throne will be established forever.'"
Psalm 89:2-5, 27, 29 ~ I will declare that your love stands firm forever, that you have established your faithfulness in heaven itself. You said, "I have made a covenant with my chosen one, I have sworn to David my servant, 'I will establish your line forever and make your throne firm through all generations.'" The heavens praise your wonders, Lord, your faithfulness too, in the assembly of the holy ones. . . . And I will appoint him to be my firstborn, the most exalted of the kings of the earth. . . . I will establish his line forever, his throne as long as the heavens endure.
Romans 16:25-27 ~ Now to him who is able to establish you in accordance with my gospel, the message I proclaim about Jesus Christ, in keeping with the revelation of the mystery hidden for long ages past, but now revealed and made known through the prophetic writings by the command of the eternal God, so that all the Gentiles might come to the obedience that comes from faith—to the only wise God be glory forever through Jesus Christ! Amen.
Luke 1:26-38 ~ In the sixth month of Elizabeth's pregnancy, God sent the angel Gabriel to Nazareth, a town in Galilee, to a virgin pledged to be married to a man named Joseph, a descendant of David. The virgin's name was Mary. The angel went to her and said, "Greetings, you who are highly favored! The Lord is with you." Mary was greatly troubled at his words and wondered what kind of greeting this might be. But the angel said to her, "Do not be afraid, Mary; you have found favor with God. You will conceive and give birth to a son, and you are to call him Jesus. He will be great and will be called the Son of the Most High. The Lord God will give him the throne of his father David, and he will reign over Jacob's descendants forever; his kingdom will never end." "How will this be," Mary asked the angel, "since I am a virgin?" The angel answered, "The Holy Spirit will come on you, and the power of the Most High will overshadow you. So the holy one to be born will be called the Son of God. Even Elizabeth your relative is going to have a child in her old age, and she who was said to be unable to conceive is in her sixth month. For no word from God will ever fail." "I am the Lord's servant," Mary answered. "May your word to me be fulfilled." Then the angel left her.
—————————-

[1] T. J. Geddert, "Peace," in Dictionary of Jesus and the Gospels, edited by Joel B. Green, Scot McKnight, and I. Howard Marshall (Downers Grove, Ill. InterVarsity Press, 1992), 604.
[2] Our Advent Scripture reflections for this year are being guided by Sharing the Word: Scriptural Reflections for Advent by Archbishop Daniel E. Pilarczyk (Cincinnatti, Oh.: 1989). I picked the book up from our local Bible store for about $4. This year is "Advent Year B." Bible quotations above are from the NIV.