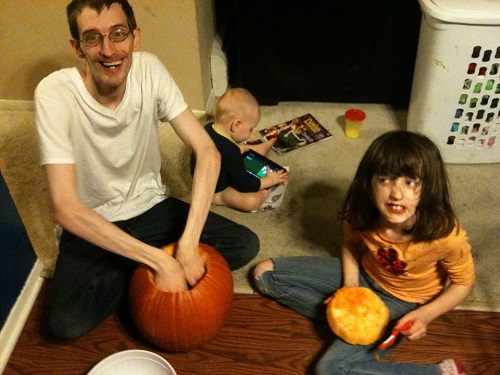 My to-do list that night read:
Carve pumpkin w/ kids
Make chocolate rum balls for Halloween potluck/party
Pick up utility belt for Black Widow costume
It was an ambitious schedule for a woman who arrives home from work at around 6:30 PM every weekday night, but I wanted everything to be perfect for Halloween. My divorce had been finalized on the previous day and I wanted both myself and my children to remember this weekend as one of fun, not sorrow.
I got home and set about the work of cleaning out and then carving the pumpkin. My live-in brother helped. My 8-year-old daughter selected a skeletal grim reaper for the pattern and my 13-month-old son played with (and tried to eat) the guts and seeds while we worked. When it was all said and done, the grim reaper looked pretty good: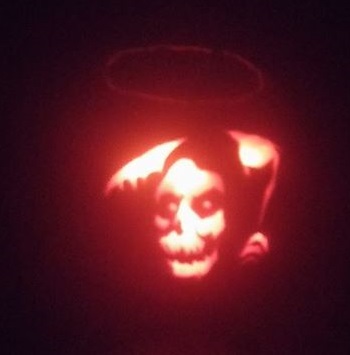 Fun was had by all.
The only problem: the pumpkin exertions left me dead tired. I couldn't fathom the thought of doing any baking that night, let alone venturing out into the cold to seek out a costume utility belt from some local store.
I went to my closet, pulled out an old brown belt that I hadn't worn in years, and said, "This will do."
As for the Halloween potluck/party: I would just have to grab something store-bought. I went to bed, resigning myself to less-than-perfect.
The next day, I put on my Black Widow costume and got ready to head in to work (yes, we were permitted to wear costumes to work). It looked fantastic. "Yeah, I don't think anyone will notice the belt," I murmured to myself. My daughter was thrilled that I had dressed up this year. I helped her into her costume and left for work after hugging her and laughing with her.
Throughout my day, positive comments on my costume just kept on rolling in. It was probably the best costume I've done in my adult life so far.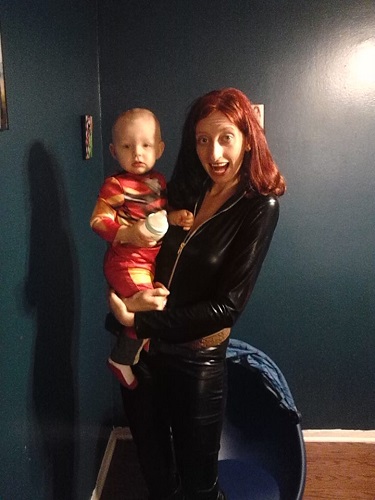 There was a potluck at work (I had been told I didn't have to contribute) with more food at it than anyone could eat, so I left work that day with some store-bought cupcakes that had been untouched, thinking I would bring them to the party later that night. But the party potluck also had far more food at it than anyone could finish. In the end, the chocolate rum balls were never needed and the cupcakes made their way home to my cupcake-loving daughter.
In navigating this single parent thing, I'm still learning when to let go and just accept less-than-perfect. October 30th was a good day for letting go, and God took care of the details. If you struggle with this like I do, just let go. Everything will work out.