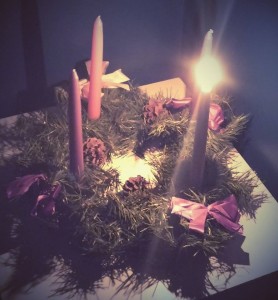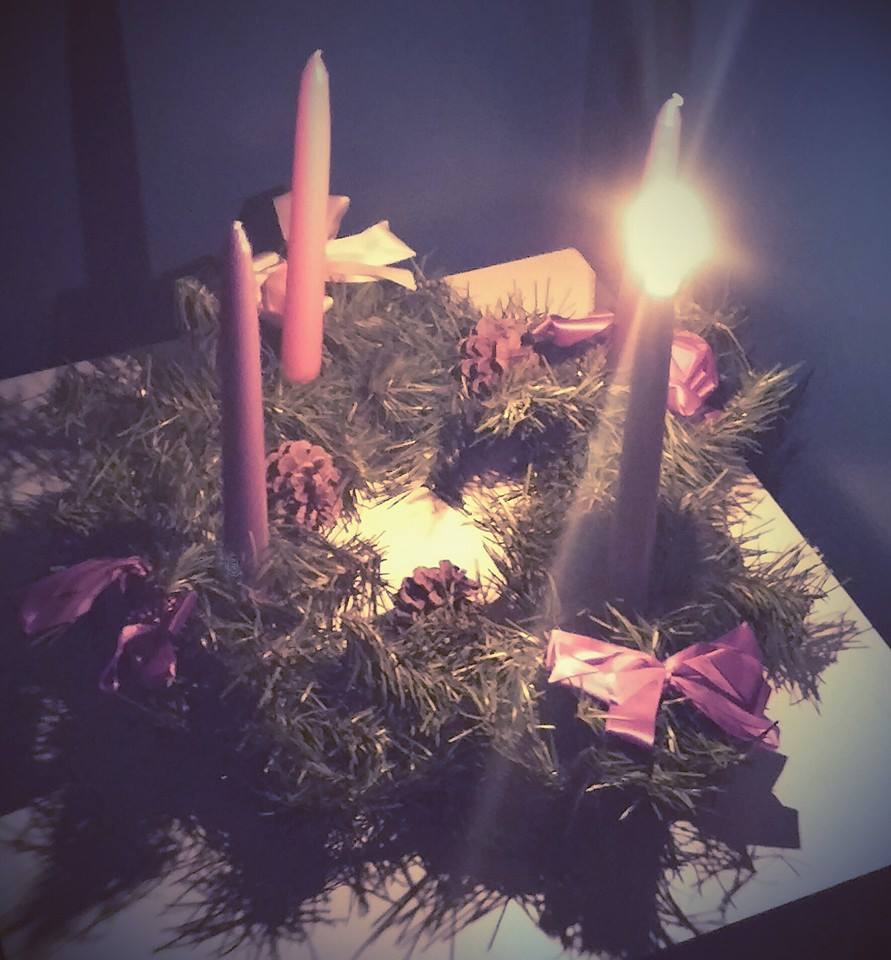 I'll never forget the definition of love that was given to me at a youth conference, years ago, when I was maybe 12. It must have been a good youth conference, because that definition has stayed with me my entire life.
"Love is choosing the highest good for the other person."
In our society, talk is cheap. A classic hallmark of emotionally immature people is saying "I love you" too early in a relationship. This kind of thing can even be a mark of abusive behavior, called "love-bombing."
For a lot of us moms, birth was not entirely a choice. I am not making a statement about rape or pro-life v. pro-choice. I just mean that, once you are pregnant and have decided to have the baby, you are along for the ride. You may not have put a lot of thought into what it is going to take to bring a new human being into the world. Pregnancy and labor and birth are different for every one of us. You never know what you will be sacrificing until you start. That was the way it was for my pregnancy with my daughter and the birth of her.
For my son, things were different. I knew I wanted him. I did everything in my power to make him happen. His conception and labor and birth were an act of love from start to finish. When his father unexpectedly abandoned us mid-pregnancy, I started looking for work (even though I hadn't had a full-time job in almost 7 years at that point) and went back to work at 7 months pregnant so that I could support us. I was far from perfect, but I tried as hard as I could to choose the highest good for my son.
When I was in labor with my son, I kept on thinking of Christ's sacrifice on the cross. How it was an act of birth. How it was an act of love. The Bible even tells us that it was a type of birth, though most English translations obscure this. In Giving Birth: Reclaiming the Biblical Metaphor for Pastoral Practice, Margaret L. Hammer writes:
Indeed, according to Acts 2:24, Jesus himself experienced birth pangs as his death and resurrection ushered in a new era: "God raised him up, having loosed the birth pangs of death, because it was not possible for him to be held by it." The birthing imagery—unmistakable in the Greek original—is lost in most translations. "Pangs" or "pain" is usually all that remains of Peter's birthing metaphor, sometimes even that is dropped in order to produce a smooth, sensible translation. The phrase in question (lusas tas ōdinas tou thanatou) is not an idiomatic expression that is just difficult to translate. On the contrary, the antecedents of it syntax are few, and nowhere else are the elements put together quite like this. The difficulty, rather, lies with the metaphor itself, as it pushes the boundary of our comprehension. What in the world does "the "birth pangs of death" mean? [1]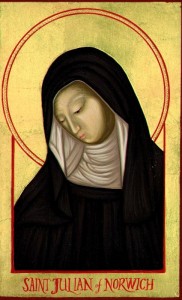 In her book, Revelations of Divine Love, the 14th century English anchoress Julian of Norwich likened Christ's sacrifice on the cross to that of a mother giving birth. It's the first book in the English language known to have been written by a woman, and this is what Julian had to say:
But our true Mother Jesus, he alone bears us for joy and for endless life, blessed may he be. So he carries us within him in love and travail, until the full time when he wanted to suffer the sharpest thorns and cruel pains that ever were or will be, and at the last he died. And when he had finished, and had borne us so bliss, still all this could not satisfy his wonderful love. [2]
Tonight I will gather my little single-parent family together and we will light the second (purple) candle on our Advent wreath and sing, "O Come All Ye Faithful." I hope you are able to think about God's love in sending his Son for us and Jesus's love in his birthing work on the cross on this second Advent Sunday, and how, through these acts, God chose the highest good for us.
Scriptures for this Advent Sunday: [3]
Isaiah 40:1-5, 9-11 ~ Comfort, O comfort my people, says your God. Speak tenderly to Jerusalem, and cry to her that she has served her term, that her penalty is paid, that she has received from the Lord's hand double for all her sins. A voice cries out: "In the wilderness prepare the way of the Lord, make straight in the desert a highway for our God. Every valley shall be lifted up, and every mountain and hill be made low; the uneven ground shall become level, and the rough places a plain. Then the glory of the Lord shall be revealed, and all people shall see it together, for the mouth of the Lord has spoken." . . . Get you up to a high mountain, O Zion, herald of good tidings; lift up your voice with strength, O Jerusalem, herald of good tidings, lift it up, do not fear; say to the cities of Judah, "Here is your God!" See, the Lord God comes with might, and his arm rules for him; his reward is with him, and his recompense before him. He will feed his flock like a shepherd; he will gather the lambs in his arms, and carry them in his bosom, and gently lead the mother sheep.
Psalm 85:9-13 ~ Surely his salvation is at hand for those who fear him, that his glory may dwell in our land. Steadfast love and faithfulness will meet; righteousness and peace will kiss each other. Faithfulness will spring up from the ground, and righteousness will look down from the sky. The Lord will give what is good, and our land will yield its increase. Righteousness will go before him, and will make a path for his steps.
2 Peter 3:8-14 ~ But do not ignore this one fact, beloved, that with the Lord one day is like a thousand years, and a thousand years are like one day. The Lord is not slow about his promise, as some think of slowness, but is patient with you, not wanting any to perish, but all to come to repentance. But the day of the Lord will come like a thief, and then the heavens will pass away with a loud noise, and the elements will be dissolved with fire, and the earth and everything that is done on it will be disclosed. Since all these things are to be dissolved in this way, what sort of persons ought you to be in leading lives of holiness and godliness, waiting for and hastening the coming of the day of God, because of which the heavens will be set ablaze and dissolved, and the elements will melt with fire? But, in accordance with his promise, we wait for new heavens and a new earth, where righteousness is at home. Therefore, beloved, while you are waiting for these things, strive to be found by him at peace, without spot or blemish;
Mark 1:1-8 ~ The beginning of the good news of Jesus Christ, the Son of God. As it is written in the prophet Isaiah, "See, I am sending my messenger ahead of you, who will prepare your way; the voice of one crying out in the wilderness: 'Prepare the way of the Lord, make his paths straight,'" John the baptizer appeared in the wilderness, proclaiming a baptism of repentance for the forgiveness of sins. And people from the whole Judean countryside and all the people of Jerusalem were going out to him, and were baptized by him in the river Jordan, confessing their sins. Now John was clothed with camel's hair, with a leather belt around his waist, and he ate locusts and wild honey. He proclaimed, "The one who is more powerful than I is coming after me; I am not worthy to stoop down and untie the thong of his sandals. I have baptized you with[f] water; but he will baptize you with the Holy Spirit."
—————



[1] Margaret L. Hammer, Giving Birth: Reclaiming the Biblical Metaphor for Pastoral Practice (Louisville, Ky.: Westminster Press, 1994), 63ff.
[3] Our Advent Scripture reflections for this year are being guided by Sharing the Word: Scriptural Reflections for Advent by Archbishop Daniel E. Pilarczyk (Cincinnatti, Oh.: 1989). I picked the book up from our local Bible store for about $4. This year is "Advent Year B." Bible quotations above are from the NRSV.