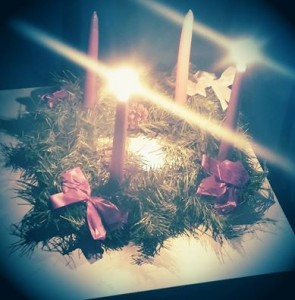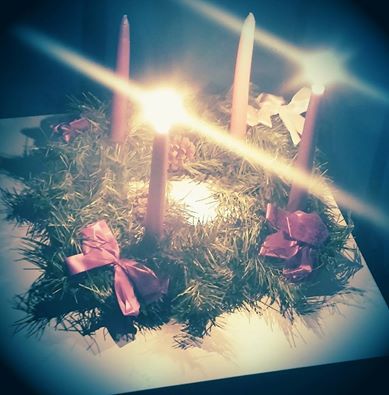 I love the stories of conception and pregnancy found in Luke 1. In our day and age, we focus so heavily on the negatives of pregnancy. Unwanted pregnancy, morning sickness, round ligament pain, weight gain, stretch marks, and the pain of childbirth are all features that are frequently discussed. We forget that, for many people, pregnancy and birth are miracles that only come through years of trying and extensive medical intervention. For these women, pregnancy is usually an event that is viewed with joy. Elizabeth, barren until she conceived John in her old age, was one such woman.
Mary's conception of Jesus Christ was a different kind of joy: the awe of a virgin conception, the wonder of participation in a divine mission. The IVP Women's Bible Commentary observes:
". . . [T]he story of the virgin birth differs markedly from the mythological tales of heroines who were impregnated by the gods. In each case, the woman is tricked, seduced or raped to satisfy the lust of one or another of the traditional deities. Zeus in particular made a practice of deceiving his unsuspecting victims with the use of disguises. Here Mary is provided with an honest explanation and given the opportunity to accept the mission or to decline it. This is not a matter of sexual exploitation but of a maiden consciously and willingly joining with the purpose of God to bring salvation to the world." [1]
My son's conception was also a very deliberate choice, and unlike Elizabeth, I conceived in only one month of trying. I still consider my son's birth a miracle of sorts, because the troubles in my marriage started very shortly after I became pregnant. Had I not conceived my son as rapidly as I did, I would not have had a second-born. I believe very strongly that God wanted my son in the world, and even with as tough as single motherhood has been, I would not change a thing about him.
The number one word that I would choose to describe the birth of my son is "joy." Yes, it was exhausting. Yes, I was in more pain that I'd ever been in. Yes, I had been dealing with some terrible treatment at the hands of my spouse just prior to giving birth. But having that so-big-but-so-little baby out and wriggling on my chest made it all worth it. The pain of the delivery faded rapidly as I held him close to me and whispered, "I love him so much" and "he's so beautiful!" Did Mary, once upon a time, hold the newborn Jesus on her chest and feel the same way?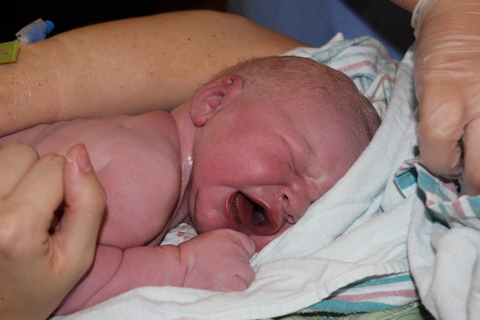 This Advent Sunday, my little family will light the third (pink) candle and sing "Joy to the World." I hope you are able to reflect on the Savior's birth and how it was an occasion for joy.
Scriptures for this Advent Sunday: [2]
Isaiah 61:1-2a, 10-11 ~ The Spirit of the Sovereign Lord is on me, because the Lord has anointed me to proclaim good news to the poor. He has sent me to bind up the brokenhearted, to proclaim freedom for the captives and release from darkness for the prisoners, to proclaim the year of the Lord's favor. . . . I delight greatly in the Lord; my soul rejoices in my God. For he has clothed me with garments of salvation and arrayed me in a robe of his righteousness, as a bridegroom adorns his head like a priest, and as a bride adorns herself with her jewels. For as the soil makes the sprout come up and a garden causes seeds to grow, so the Sovereign Lord will make righteousness and praise spring up before all nations.
Luke 1:46-50, 53-54 ~ And Mary said: "My soul glorifies the Lord and my spirit rejoices in God my Savior, for he has been mindful of the humble state of his servant. From now on all generations will call me blessed, for the Mighty One has done great things for me— holy is his name. His mercy extends to those who fear him, from generation to generation. . . . He has filled the hungry with good things but has sent the rich away empty. He has helped his servant Israel, remembering to be merciful . . .
1 Thessalonians 5:16-24 ~ Rejoice always, pray continually, 18 give thanks in all circumstances; for this is God's will for you in Christ Jesus. Do not quench the Spirit. Do not treat prophecies with contempt but test them all; hold on to what is good, reject every kind of evil. May God himself, the God of peace, sanctify you through and through. May your whole spirit, soul and body be kept blameless at the coming of our Lord Jesus Christ. The one who calls you is faithful, and he will do it.
John 1:6-8, 19-28 ~ There was a man sent from God whose name was John. He came as a witness to testify concerning that light, so that through him all might believe. He himself was not the light; he came only as a witness to the light. . . . Now this was John's testimony when the Jewish leaders in Jerusalem sent priests and Levites to ask him who he was. He did not fail to confess, but confessed freely, "I am not the Messiah." They asked him, "Then who are you? Are you Elijah?" He said, "I am not." "Are you the Prophet?" He answered, "No." Finally they said, "Who are you? Give us an answer to take back to those who sent us. What do you say about yourself?" John replied in the words of Isaiah the prophet, "I am the voice of one calling in the wilderness, 'Make straight the way for the Lord.'" Now the Pharisees who had been sent questioned him, "Why then do you baptize if you are not the Messiah, nor Elijah, nor the Prophet?" "I baptize with water," John replied, "but among you stands one you do not know. He is the one who comes after me, the straps of whose sandals I am not worthy to untie." This all happened at Bethany on the other side of the Jordan, where John was baptizing.
—————————-

[1] The IVP Women's Bible Commentary, edited by Catherine Clark Kroeger and Mary J. Evans (Downers Grove, Ill.: InterVarsity Press, 2002), 564-65.
[2] Our Advent Scripture reflections for this year are being guided by Sharing the Word: Scriptural Reflections for Advent by Archbishop Daniel E. Pilarczyk (Cincinnatti, Oh.: 1989). I picked the book up from our local Bible store for about $4. This year is "Advent Year B." Bible quotations above are from the NIV.