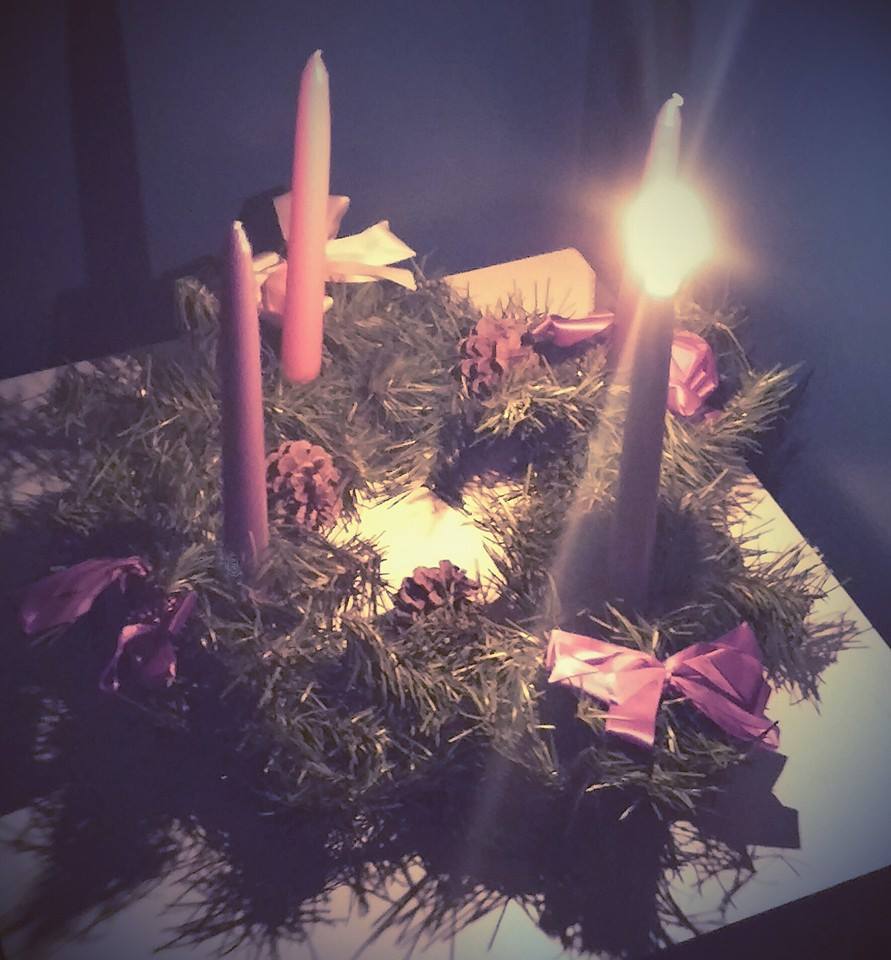 Today is the first Sunday of Advent for the year 2015. We enter into my favorite season from a past year that has been one of continuing transition for my family. I switched jobs (just two weeks ago), started a certificate program at the local community college, have made good progress on my thesis with a solid goal of finally finishing my MA degree in May 2016, and have gotten acclimated to the life of a single mother and divorcée. My brother, who lives with me and had been my primary caregiver for my children, went back to work for the first time in six years, which has meant putting my son in part-time child care and my daughter in after-school care. As I look to the future, I am pondering the possibility of returning to my family in Seattle next summer, after I finish both my programs. It would mean trying to line up both a job and a place to live before making the cross-country move, so I am apprehensive about the future.
Yet, I am hopeful. My favorite passage in the Bible reads (emphasis mine):
Jeremiah 29:11-13 ~ "For I know the plans I have for you," declares the Lord, "plans to prosper you and not to harm you, plans to give you hope and a future. Then you will call on me and come and pray to me, and I will listen to you. You will seek me and find me when you seek me with all your heart."
Hope is a powerful thing. The Reformer Martin Luther once said, "Everything that is done in the world is done by hope." Often we think that we have no hope, but if this were true, we might not choose to keep going. And when we look to God and his promises for our hope, he can do amazing things in our lives. On the dawn of Christ's coming, Israel looked to God for the hope of the promised Messiah.
Pilarczyk's Advent devotional reminds us:
In his Letter to the Romans, Paul tells us that it's time to wake up. It may seem that we are in a time of darkness, but full daylight is almost here. The universal fulfillment of salvation is nearly upon us.

Paul describes what this awakening involves—getting rid of the attitudes and practices that constitute moral darkness: overindulgence in food and drink, sexual misbehavior, and contentiousness that undermines our relationships. All these have to be taken off like dirty clothes.

As this new Church year begins, God's word says to us, "Get up! Get dressed! Get busy! It's almost light and you've got an important day ahead of you!"

. . .

What areas of your life need to "wake up" as you prepare for Christmas? Spend some time listening to God today and examine those areas of your life.
This Advent Sunday, I will gather my little single-parent family together and light the first candle (purple) on our Advent wreath, and we will sing "O Come, O Come, Emmanuel." We will have dinner together while the candle burns, and tonight, I will spend time reflecting on what needs to change about my life to bring me closer to God and allow him to fill me with his hope.
May God's Spirit draw you to do the same.
Scriptures for this Advent Sunday: [1]
Jeremiah 33:14-16 ~ "The days are coming," declares the LORD, "when I will fulfill the good promise I made to the people of Israel and Judah. In those days and at that time I will make a righteous Branch sprout from David's line; he will do what is just and right in the land. In those days Judah will be saved and Jerusalem will live in safety. This is the name by which it will be called: The LORD Our Righteous Savior."
Psalm 25:4-5, 8-10, 14 ~ Show me your ways, LORD, teach me your paths. Guide me in your truth and teach me, for you are God my Savior, and my hope is in you all day long. . . . Good and upright is the LORD; therefore he instructs sinners in his ways. He guides the humble in what is right and teaches them his way. All the ways of the LORD are loving and faithful toward those who keep the demands of his covenant. The LORD confides in those who fear him; he makes his covenant known to them.
1 Thessalonians 3:12-4:2 ~ May the Lord make your love increase and overflow for each other and for everyone else, just as ours does for you. May he strengthen your hearts so that you will be blameless and holy in the presence of our God and Father when our Lord Jesus comes with all his holy ones. As for other matters, brothers and sisters, we instructed you how to live in order to please God, as in fact you are living. Now we ask you and urge you in the Lord Jesus to do this more and more. For you know what instructions we gave you by the authority of the Lord Jesus.
Luke 21:25-28, 34-36 ~ There will be signs in the sun, moon and stars. On the earth, nations will be in anguish and perplexity at the roaring and tossing of the sea. People will faint from terror, apprehensive of what is coming on the world, for the heavenly bodies will be shaken. At that time they will see the Son of Man coming in a cloud with power and great glory. When these things begin to take place, stand up and lift up your heads, because your redemption is drawing near. . . . Be careful, or your hearts will be weighed down with carousing, drunkenness and the anxieties of life, and that day will close on you suddenly like a trap. For it will come on all those who live on the face of the whole earth. Be always on the watch, and pray that you may be able to escape all that is about to happen, and that you may be able to stand before the Son of Man.
Romans 13:11-12 ~ And do this, understanding the present time: The hour has already come for you to wake up from your slumber, because our salvation is nearer now than when we first believed. The night is nearly over; the day is almost here. So let us put aside the deeds of darkness and put on the armor of light.
—————


[1] Our Advent Scripture reflections for this year are being guided by Sharing the Word: Scriptural Reflections for Advent by Archbishop Daniel E. Pilarczyk (Cincinnatti, Oh.: 1989). I picked the book up from our local Bible store last year for about $4. This year is "Advent Year C." Bible quotations above are from the NIV.