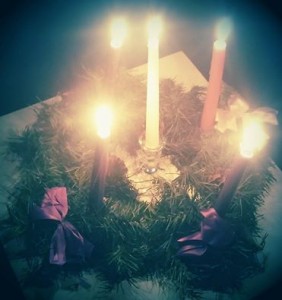 Merry Christmas!
Today was a different kind of Christmas for me. The brokenness that is divorce means that I only see my children every other holiday. My XH has them in Florida, visiting with their grandparents. I spoke to them on Skype today and they seem well. They return tomorrow, and we will open the presents under the tree on Sunday morning, so it isn't much of a delay. Still, it is sobering to realize that I will only spend four more Christmas days with my daughter before she becomes an adult. Today I only had my brother with me for Christmas, and though he is wonderful and I love him a lot, it's been my loneliest Christmas so far.
I don't feel alone though. As hard as it is to be without my kids, I know that, given the circumstances, everything is as it should be. Their grandparents love them and they are making new childhood memories in Florida, and I won't have to wait long to see them. I have a roof over my head, food to feed them, and there are presents under the tree for them. God has blessed us.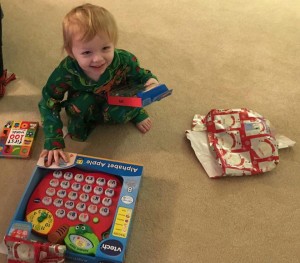 I spoke earlier this year, in my testimony, about my beliefs on the Incarnation and what it means for humanity. I will lay down my life to empower the weak and helpless, just as Jesus did for us by choosing to become human, walk among us, and die for us. Christmas is when we remember that first step he took for us.
I hope your Christmas has been a good one.
Scriptures for Christmas Day: [1]
Isaiah 52:7-10 ~ How beautiful on the mountains are the feet of those who bring good news, who proclaim peace, who bring good tidings, who proclaim salvation, who say to Zion, "Your God reigns!" Listen! Your watchmen lift up their voices; together they shout for joy. When the Lord returns to Zion, they will see it with their own eyes. Burst into songs of joy together, you ruins of Jerusalem, for the Lord has comforted his people, he has redeemed Jerusalem. The Lord will lay bare his holy arm in the sight of all the nations, and all the ends of the earth will see the salvation of our God.
Psalm 98:1-6 ~ Sing to the Lord a new song, for he has done marvelous things; his right hand and his holy arm have worked salvation for him. The Lord has made his salvation known and revealed his righteousness to the nations. He has remembered his love and his faithfulness to Israel; all the ends of the earth have seen the salvation of our God. Shout for joy to the Lord, all the earth, burst into jubilant song with music; make music to the Lord with the harp, with the harp and the sound of singing, with trumpets and the blast of the ram's horn—shout for joy before the Lord, the King.
Hebrews 1:1-6 ~ In the past God spoke to our ancestors through the prophets at many times and in various ways, but in these last days he has spoken to us by his Son, whom he appointed heir of all things, and through whom also he made the universe. The Son is the radiance of God's glory and the exact representation of his being, sustaining all things by his powerful word. After he had provided purification for sins, he sat down at the right hand of the Majesty in heaven. So he became as much superior to the angels as the name he has inherited is superior to theirs. The Son Superior to Angels For to which of the angels did God ever say, "You are my Son; today I have become your Father"? Or again, "I will be his Father, and he will be my Son"? And again, when God brings his firstborn into the world, he says, "Let all God's angels worship him."
John 1:1-18 ~ In the beginning was the Word, and the Word was with God, and the Word was God. He was with God in the beginning. Through him all things were made; without him nothing was made that has been made. In him was life, and that life was the light of all mankind. The light shines in the darkness, and the darkness has not overcome it. There was a man sent from God whose name was John. He came as a witness to testify concerning that light, so that through him all might believe. He himself was not the light; he came only as a witness to the light. The true light that gives light to everyone was coming into the world. He was in the world, and though the world was made through him, the world did not recognize him. He came to that which was his own, but his own did not receive him. Yet to all who did receive him, to those who believed in his name, he gave the right to become children of God—children born not of natural descent, nor of human decision or a husband's will, but born of God. The Word became flesh and made his dwelling among us. We have seen his glory, the glory of the one and only Son, who came from the Father, full of grace and truth. (John testified concerning him. He cried out, saying, "This is the one I spoke about when I said, 'He who comes after me has surpassed me because he was before me.'") Out of his fullness we have all received grace in place of grace already given. For the law was given through Moses; grace and truth came through Jesus Christ. No one has ever seen God, but the one and only Son, who is himself God and is in closest relationship with the Father, has made him known.
——————–
[1] Our Advent Scripture reflections for this year are being guided by Sharing the Word: Scriptural Reflections for Advent by Archbishop Daniel E. Pilarczyk (Cincinnatti, Oh.: 1989). I picked the book up from our local Bible store last year for about $4. All readings come from the NIV.