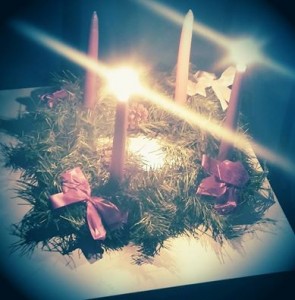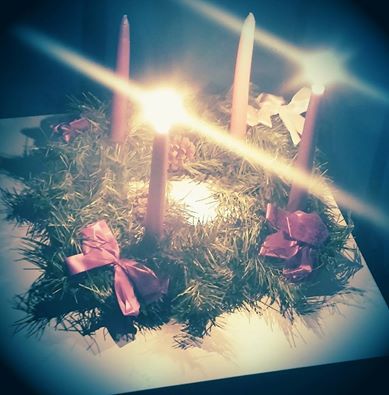 I'll never forget the definition of love that was given to me at a youth conference, years ago, when I was maybe 12. It must have been a good youth conference, because that definition has stayed with me my entire life.
"Love is choosing the highest good for the other person."
In our society, talk is cheap. A classic hallmark of emotionally immature people is saying "I love you" too early in a relationship. This kind of thing can even be a mark of abusive behavior, called "love-bombing."
For a lot of us moms, birth was not entirely a choice. I am not making a statement about rape or pro-life v. pro-choice. I just mean that, once you are pregnant and have decided to have the baby, you are along for the ride. You may not have put a lot of thought into what it is going to take to bring a new human being into the world. Pregnancy and labor and birth are different for every one of us. You never know what you will be sacrificing until you start. That was the way it was for my pregnancy with my daughter and the birth of her.
For my son, things were different. I knew I wanted him. I did everything in my power to make him happen. His conception and labor and birth were an act of love from start to finish. When his father unexpectedly abandoned us mid-pregnancy, I started looking for work (even though I hadn't had a full-time job in almost 7 years at that point) and went back to work at 7 months pregnant so that I could support us. I was far from perfect, but I tried as hard as I could to choose the highest good for my son.
When I was in labor with my son, I kept on thinking of Christ's sacrifice on the cross. How it was an act of birth. How it was an act of love. The Bible even tells us that it was a type of birth, though most English translations obscure this. In Giving Birth: Reclaiming the Biblical Metaphor for Pastoral Practice, Margaret L. Hammer writes:
Indeed, according to Acts 2:24, Jesus himself experienced birth pangs as his death and resurrection ushered in a new era: "God raised him up, having loosed the birth pangs of death, because it was not possible for him to be held by it." The birthing imagery—unmistakable in the Greek original—is lost in most translations. "Pangs" or "pain" is usually all that remains of Peter's birthing metaphor, sometimes even that is dropped in order to produce a smooth, sensible translation. The phrase in question (lusas tas ōdinas tou thanatou) is not an idiomatic expression that is just difficult to translate. On the contrary, the antecedents of it syntax are few, and nowhere else are the elements put together quite like this. The difficulty, rather, lies with the metaphor itself, as it pushes the boundary of our comprehension. What in the world does "the "birth pangs of death" mean? [1]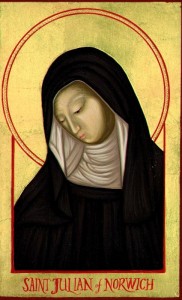 In her book, Revelations of Divine Love, the 14th century English anchoress Julian of Norwich likened Christ's sacrifice on the cross to that of a mother giving birth. It's the first book in the English language known to have been written by a woman, and this is what Julian had to say:
But our true Mother Jesus, he alone bears us for joy and for endless life, blessed may he be. So he carries us within him in love and travail, until the full time when he wanted to suffer the sharpest thorns and cruel pains that ever were or will be, and at the last he died. And when he had finished, and had borne us so bliss, still all this could not satisfy his wonderful love. [2]
Tonight I will gather my little single-parent family together and we will light the second (purple) candle on our Advent wreath and sing, "O Come All Ye Faithful." I hope you are able to think about God's love in sending his Son for us and Jesus's love in his birthing work on the cross on this second Advent Sunday, and how, through these acts, God chose the highest good for us.
(NOTE: This post ran previously. I decided I could not improve on it this year. Scriptures have been updated to reflect Advent Year C.)
Scriptures for this Advent Sunday: [3]
Malachi 3:1-4 ~ See, I am sending my messenger to prepare the way before me, and the Lord whom you seek will suddenly come to his temple. The messenger of the covenant in whom you delight—indeed, he is coming, says the LORD of hosts. But who can endure the day of his coming, and who can stand when he appears? For he is like a refiner's fire and like fullers' soap; he will sit as a refiner and purifier of silver, and he will purify the descendants of Levi and refine them like gold and silver, until they present offerings to the LORD in righteousness. Then the offering of Judah and Jerusalem will be pleasing to the LORD as in the days of old and as in former years.
Psalm 126:1-6 ~ When the Lord restored the fortunes of Zion, we were like those who dream. Then our mouth was filled with laughter, and our tongue with shouts of joy; then it was said among the nations, "The Lord has done great things for them." The Lord has done great things for us, and we rejoiced. Restore our fortunes, O Lord, like the watercourses in the Negeb. May those who sow in tears reap with shouts of joy. Those who go out weeping, bearing the seed for sowing, shall come home with shouts of joy, carrying their sheaves.
Philippians 1:4-6, 8-11 ~ [I am] constantly praying with joy in every one of my prayers for all of you, because of your sharing in the gospel from the first day until now. I am confident of this, that the one who began a good work among you will bring it to completion by the day of Jesus Christ. . . . For God is my witness, how I long for all of you with the compassion of Christ Jesus. And this is my prayer, that your love may overflow more and more with knowledge and full insight to help you to determine what is best, so that in the day of Christ you may be pure and blameless, having produced the harvest of righteousness that comes through Jesus Christ for the glory and praise of God.
Luke 3:1-6 ~ In the fifteenth year of the reign of Emperor Tiberius, when Pontius Pilate was governor of Judea, and Herod was ruler of Galilee, and his brother Philip ruler of the region of Ituraea and Trachonitis, and Lysanias ruler of Abilene, during the high priesthood of Annas and Caiaphas, the word of God came to John son of Zechariah in the wilderness. He went into all the region around the Jordan, proclaiming a baptism of repentance for the forgiveness of sins, as it is written in the book of the words of the prophet Isaiah, "The voice of one crying out in the wilderness: 'Prepare the way of the Lord, make his paths straight. Every valley shall be filled, and every mountain and hill shall be made low, and the crooked shall be made straight, and the rough ways made smooth; and all flesh shall see the salvation of God.'"
—————



[1] Margaret L. Hammer, Giving Birth: Reclaiming the Biblical Metaphor for Pastoral Practice (Louisville, Ky.: Westminster Press, 1994), 63ff.
[3] Our Advent Scripture reflections for this year are being guided by Sharing the Word: Scriptural Reflections for Advent by Archbishop Daniel E. Pilarczyk (Cincinnatti, Oh.: 1989). I picked the book up from our local Bible store last year for about $4. This year is "Advent Year C." Bible quotations above are from the NRSV. I removed apocrypha readings and substituted suggestions from elsewhere.