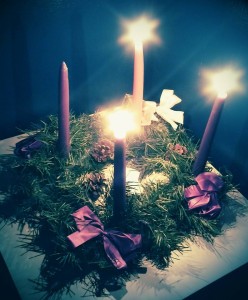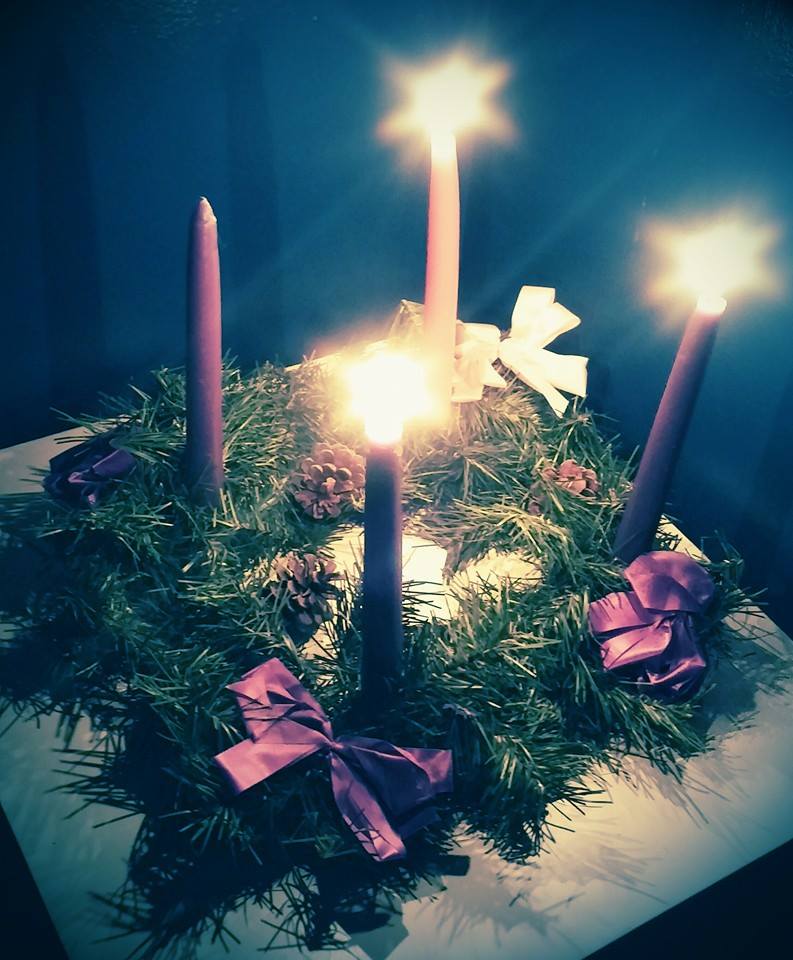 Earlier this year, I attended a soft skills training on "stress management." It was a small class (3-4 people plus 2 instructors), so everyone in the class got to share a bit about what makes them stressed. I found myself talking a lot about my kids. Working to support my kids, commuting long distances to support my kids, living on a tight budget because of my kids, and the endless grind of the life of a single mother with so few breaks from the kids.
At a different point in the class, the instructor asked us to write down what makes us feel happy, and at the top of my list was . . . my kids. When my little boy giggles at me, when my daughter is being goofy, when we do something together as a family. The source of my greatest stresses in life is also the source of my greatest joy.
I read an article earlier this year about how some pain actually enhances pleasure. I'm not sure I'd feel the highs with my kids were it not for the lows.
The third Advent candle represents joy. The pink also reminds us to look ahead to Christ's sacrifice. The joy of the Savior's arrival in this world is linked to the anticipation of his sacrifice for us all. We can't have one without the other.
Tonight, I'm gathering my children around to light the third Advent candle and sing "Joy to the World." May you find joy this Advent Sunday.
Scriptures for this Advent Sunday: [1]
Zephaniah 3:14-19a ~ Sing, Daughter Zion; shout aloud, Israel! Be glad and rejoice with all your heart, Daughter Jerusalem! The LORD has taken away your punishment, he has turned back your enemy. The LORD, the King of Israel, is with you; never again will you fear any harm. On that day they will say to Jerusalem, "Do not fear, Zion; do not let your hands hang limp. The LORD your God is with you, the Mighty Warrior who saves. He will take great delight in you; in his love he will no longer rebuke you, but will rejoice over you with singing." "I will remove from you all who mourn over the loss of your appointed festivals, which is a burden and reproach for you. At that time I will deal with all who oppressed you.
Isaiah 12:2-6 ~ :Surely God is my salvation; I will trust and not be afraid. The LORD, the LORD himself, is my strength and my defense; he has become my salvation." With joy you will draw water from the wells of salvation. In that day you will say: "Give praise to the LORD, proclaim his name; make known among the nations what he has done, and proclaim that his name is exalted. Sing to the LORD, for he has done glorious things; let this be known to all the world. Shout aloud and sing for joy, people of Zion, for great is the Holy One of Israel among you."
Philippians 4:4-7 ~ Rejoice in the Lord always. I will say it again: Rejoice! Let your gentleness be evident to all. The Lord is near. Do not be anxious about anything, but in every situation, by prayer and petition, with thanksgiving, present your requests to God. And the peace of God, which transcends all understanding, will guard your hearts and your minds in Christ Jesus.
Luke 3:10-18 ~ "What should we do then?" the crowd asked. John answered, "Anyone who has two shirts should share with the one who has none, and anyone who has food should do the same." Even tax collectors came to be baptized. "Teacher," they asked, "what should we do?" "Don't collect any more than you are required to," he told them. Then some soldiers asked him, "And what should we do?" He replied, "Don't extort money and don't accuse people falsely—be content with your pay." The people were waiting expectantly and were all wondering in their hearts if John might possibly be the Messiah. John answered them all, "I baptize you with water. But one who is more powerful than I will come, the straps of whose sandals I am not worthy to untie. He will baptize you with the Holy Spirit and fire. His winnowing fork is in his hand to clear his threshing floor and to gather the wheat into his barn, but he will burn up the chaff with unquenchable fire." And with many other words John exhorted the people and proclaimed the good news to them.
1 Thessalonians 5:16-18 ~ Rejoice always, pray continually, give thanks in all circumstances; for this is God's will for you in Christ Jesus.
—————————-

[1] Our Advent Scripture reflections for this year are being guided by Sharing the Word: Scriptural Reflections for Advent by Archbishop Daniel E. Pilarczyk (Cincinnatti, Oh.: 1989). I picked the book up from our local Bible store last year for about $4. This year is "Advent Year C." Bible quotations above are from the NIV.