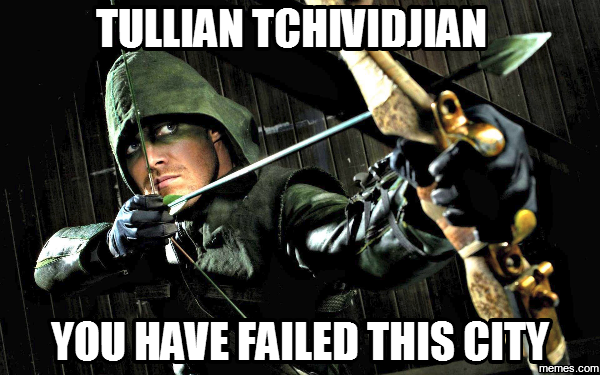 Tullian Tchividjian was in the news again in March, and not for good reasons. The disgraced grandson of famed mega-evangelist Billy Graham made headlines last June when he resigned from his megachurch post with the following announcement:
As many of you know, I returned from a trip a few months back and discovered that my wife was having an affair. Heartbroken and devastated, I informed our church leadership and requested a sabbatical to focus exclusively on my marriage and family. As her affair continued, we separated. Sadly and embarrassingly, I subsequently sought comfort in a friend and developed an inappropriate relationship myself.
At the time, while I winced at how Tchividjian threw his wife under the bus, I had little sympathy for her. Infidelity is a form of abuse and unrepentant cheaters might be among the few who are actually deserving of public humiliation and shame (granted, their families are not). And while I think the "revenge affair" is still wrong and a terrible idea, I gave Tchividjian props for doing the right thing and recusing himself from ordained ministry. After all, 1 Tim. 3:2 says that an elder must be "the husband of one wife," a phrase that I believe was a euphemism for "faithful to his wife" (as so translated by the NIV and NLT). The directive is repeated for deacons in 1 Tim. 3:12, and a similar qualifying phrase appears for the order of ministering widows in 1 Tim. 5:9 ("wife of one husband"). [1] Besides that, 1 Tim. 3:2 also says that an elder must be "above reproach," and adultery is, oh I don't know, reproachable?
In short: Christian adulterers have no business serving in ordained (or even just ordered leadership) ministry, whether as pastors, elders, or deacons. They may find other callings for their pastoral gifts, but ordained ministry should not be one of them. I personally believe this prohibition should be indefinite, but if such persons ever are restored to ministry, it should only be after years of repentance and therapy. Infidelity is not easy to repent of. It is associated with a wide variety of personality disorders and very serious character flaws, none of which are the sorts of things we want leading us from the pulpit.
Luckily for Tchividjian, the elders of Willow Creek Church [2] in Winter Springs (FL) didn't have my grasp of the New Testament. They offered him a job just two months after his confession of adultery went public. His pastoral résumé hardly saw so much as a hiccup. Note that Willow Creek Church is affiliated with the Presbyterian Church in America, a hierarchist ("complementarian") denomination that doesn't ordain women even to the office of deacon (which is very clearly a biblical practice; Rom. 16:1) precisely because of their interpretation of passages like 1 Tim. 3:1-12. They wouldn't have offered Tchividjian's new job to a woman no matter how much adultery she hadn't committed; the sin of being born female would have been enough to disqualify her. Yet it took them all of a few months to hand the keys to the office to Tchividjian, 1 Tim. 3:2 be damned. Now that's all blown up for them as it turns out Tchividjian had an even earlier, undisclosed affair. (So, when Tchividjian threw his wife under the bus, he was being a jerk and a hypocrite. For all we know, she was the one who had the "revenge affair.") [NOTE: It has been brought to my attention that Tchividjian's position at Willow Creek was "Director of Ministry Development," a non-ordained staff support position. Unless this position was/is open to women, I think my criticism holds, and I think weeks/months after confession of adultery is still way too early to be "director" of anything ministry-related.]
I mentioned in another post that I dated someone last year who did this: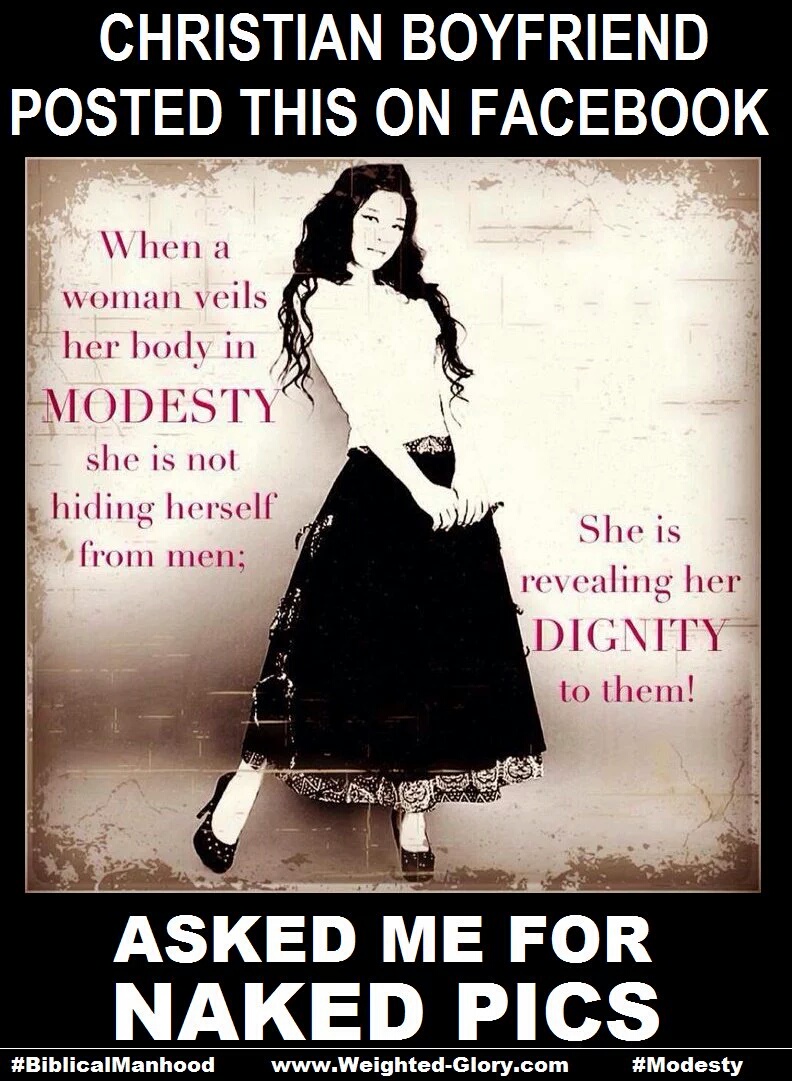 What I did not mention was that the guy was ardently against the ordination of women. Slept with every girlfriend he'd had before me? Check. Off-and-on porn habit? Check. Asking Begging his current girlfriend to send naked pics? Check. But when I suggested that, if things worked out, maybe we could find some kind of compromise on women in ministry so that we could attend church together (I mentioned the example of an Anglican church I knew of that ordained women as deacons and "pastors," but not elders or priests), his response was, "I will NOT compromise on God's standards!" ("Hmm, that's funny," I thought to myself, "because it looks like you compromise on God's standards a lot.")
You may dismiss my ex-boyfriend as a lone moonbat whose behavior shouldn't reflect on complementarians (and other patriarchal/hierarchist Christians) in general. In doing so, you would miss that the Tchividjian incident is just my ex-boyfriend's hypocrisy on a much larger scale. Yes, all have sinned and fall short of the glory of God. Yes, we all make honest mistakes and have temporary lapses in judgment (like I did when I dated that guy). But a man who is so passionate about "God's standards" that he won't even fathom going to a church with a female deacon should have no problem not getting on OKC to look for hook-ups. Likewise, people who are so intent on protecting the pulpit that they're willing to bar half of the human race from consideration should care a little bit more about all of God's standards for ministry. You know, the ones that actually matter, like not letting adulterers into the pulpit.
Think that Tchividjian was an isolated incident? Okay, so how about not letting people complicit in child molestation scandals into the pulpit? (And how many big-name complementarians have circled the wagon around Mahaney?!) I could go on and on.
Those who wish to be taken seriously when they "suffer not a woman" need to stop "suffering" just about everything else. Otherwise, it stops looking like sincere passion for God's standards and starts looking like boring ol' male privilege.
—————————————-
[1] As a church historian and dedicated student of the Bible, I am certain that "the women" of 1 Tim. 3:11 refers to female deacons. I believe it was possibly meant for both female deacons and female elders, but this view finds far less support among scholars and no support among early church fathers like "female deacons" does.
[2] Note: not affiliated with the Willow Creek Community Church in South Barrington that I sometimes go to.