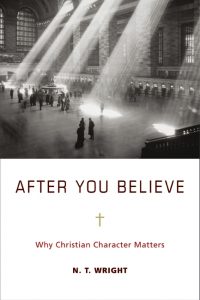 After You Believe: Why Christian Character Matters by N. T. Wright [New York, N. Y.: HarperOne, 2010; HarperAudio audiobook read by Anthony Ferguson, 2010]
If C. S. Lewis had been in favor of women's ordination and a Bible scholar (two things which naturally belong together ;-)), he would have been N. T. Wright. They were/are both Anglican, English, taught at Oxford, and have/had a preponderance of fondness for being known by their initials. Wright also, like Lewis, possesses a keen ability to reason from the Scriptures in a simple yet logical manner and a creative command of useful metaphors and analogies to bring his points to life. His Simply Christian (which I haven't read) has been compared to Lewis's Mere Christianity, with obvious similarities in the titles. No word on whether or not Wright shares in Lewis's fondness for cigars, but I digress.
After You Believe: Why Christian Character Matters is a sequel to Simply Christian, but I can attest that you don't have to read the first to understand and be edified by the second. As the subtitle suggests, After You Believe is about the development of character and what that means, a call for Christians to return to the pursuit of virtue. Central to Wright's message is a breakdown of what the "Royal Priesthood" is: that Christians are meant to be both rulers and priests, and that this life is but the small opening part of a much longer existence (there are echoes of deification in this theology, although Wright does not use that term). The pursuit of virtue is not a matter of salvation, Wright is clear, but something we should seek earnestly in anticipation of and preparation for what God means for us to be. Wright makes the case that virtue is not something we are automatically given by the indwelling of the Spirit, but something that we must make a conscious effort to build up and pursue—with the Spirit's help, of course.