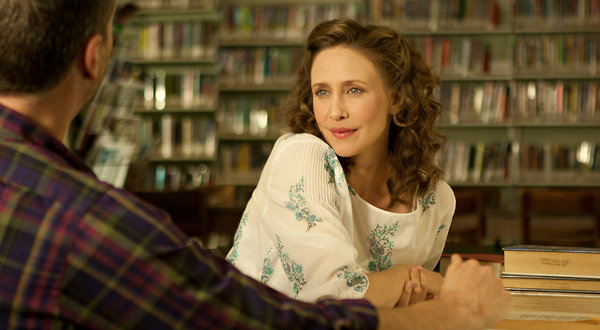 Higher Ground directed by Vera Farmiga [August 2011]
Higher Ground is about a woman named Corinne Briggs, played by Vera Farmiga (Up in the Air, The Departed) as an adult and Taissa Farmiga (American Horror Story) as a teenager. Corinne is raised in a Christian-in-name-only household where she occasionally attends a mainline Protestant church. As a young child, she answers an altar call and agrees to make Jesus Christ her Lord and Savior. Nothing dramatic happens in this moment, and when she tells her mother afterwards about her monumental decision, Mom does not even care. Even her pastor seems more interested in flirting with her mother than in calling attention to what has just happened. But Corinne's promise is a sincere one. Naive, perhaps, but sincere.
The years pass. Life happens. Corinne meets a guy, falls in love, and gets pregnant out of wedlock, they get married. Her young husband has his heart set on a crazy dream of making it big in the music industry. Then the couple experiences a near-tragedy wherein they cry out to God, and they seem to witness a miracle. Is it really a miracle? Well, there are other possible explanations. But what matters is that theybelieve it's a miracle, so Corinne and her husband newly dedicate their lives to God.