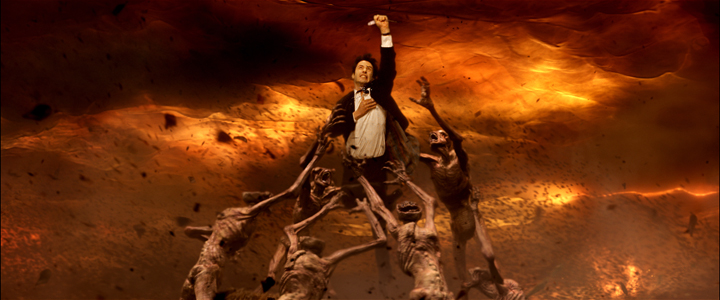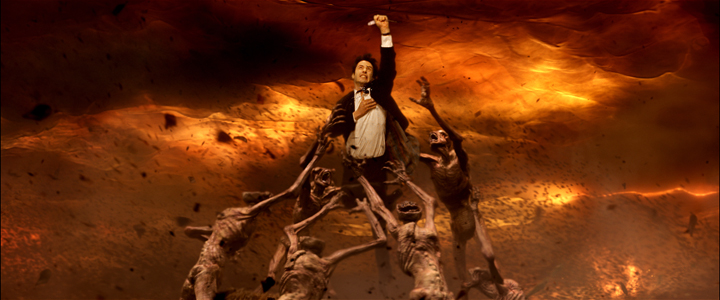 The doctrine of Hell has come under considerable fire in recent years. [1] One need only browse the rumblings on religion-themed Internet discussion forums and Web logs to glean that the notion of a God who eternally disciplines sinful humans in the afterlife is about as popular as parents who spank their children. [2] Over a year ago, popular author and pastor Rob Bell sparked intense debate amongst evangelicals with the publication of Love Wins, a book wherein Bell speaks favorably of universalism, saying: "Whatever objections a person might have to [universalism], and there are many, one has to admit that it is fitting, proper, and Christian to long for it." [3] Bell insists that he is not a universalist, but many within the evangelical community raised their voices in protest of this apparent attack on Hell from within our own ranks.
For my own part, I affirm the existence of Hell. I believe the Bible teaches that Hell is a real place, that it will be occupied, that those who go there experience anguish, and that assignment to Hell is permanent and based on one's actions in this life. Furthermore, I believe that the alternatives to Hell—namely, universalism and post-mortem salvation—create more problems than they solve. A belief in the possibility of negative eternal outcomes as well as positive is the only option that validates our free will and grants meaning and purpose to our mortality.
The Biblical Nature of Hell
Many object to Hell on the grounds that eternal punishment is inconsistent with the notion of a tender and loving God who wants that none should perish. They desire a Christianity that only preaches love, forgiveness, and hope, "like Jesus." The sentiment is highly ironic, for Jesus had more to say on the subject of Hell than any other figure in the Bible. [4] Lunde summarizes:
Throughout the teachings of Jesus, the concept of hell is used consistently to refer to the place of punishment and suffering prepared for the devil (. . .) and his angels (Mt 25:41; Lk 8:31), as well as for those people who reject God. Accordingly, those who reject Jesus (Mt 11:20-24 par. Lk 10:12-15; cf. also Mt 8:8-12 par. Lk 7:6-9 with 13:28-29; Mt 22:1-14; 25:41-46) and the prophets (Mt 23:31-33; Lk 16:29-31) reap it as their reward. In addition, those guilty of hypocrisy (Mt 23:15, 33; . . .), hateful language and intent (Mt 5:22), unfaithfulness (Mt 24:45-51 par. Lk 12:41-46), unrepentance (Mt 5:29-30; 18:8-9 par. Mk 9:43-47; . . .) and disobedience (Mt 5:22; 7:19; 13:40, 42, 50; 25:30; Jn 15:6) are liable to its judgment. Predictably, its location is understood by Jesus to be in the depths, the very opposite of the heights of heaven (cf. Mt 11:23 par. Lk 10:15). [5]
Hence it is Jesus who teaches that Hell is a real place that will be the destination of at least some humans in the afterlife on account of their mortal behavior. Jesus also teaches that consignment to Hell is permanent, contrasting "eternal punishment" with "eternal life" (Mt 25:46), [6] while the parable of the rich man and Lazarus (Lk 16:19-31) speaks of a "great chasm" between those who have eternal life and those who are being eternally punished, so that those who wish to cross from one side to the other cannot (v. 26). Finally, the Hell preached by Jesus seems to involve conscious anguish or torment of some kind (Mk 9:47-48; Mt 8:12). These details about Hell are difficult to reconcile with universalism, annihilationism, or post-mortem evangelization.
What is Hell?
While the Bible has plenty to say about the existence of Hell and who is going there, arguably it has little to say on what Hell will actually be like. Hell means separation from God (2 Th 1:9). That much is clear. Hell is often described in terms of "darkness" or "fire." However, for many these are obvious metaphors, for how often is something both fiery and dark? Much of the biblical imagery concerning celestial beings and Heaven is transparently symbolic. Nevertheless, the idea that Hell includes a component of physical torment has been a pervasive one throughout Christian history. From the early church fathers to the present, Christians have often depicted Hell as a place where God willingly inflicts gruesome physical torture on the wicked.
I can understand why non-Christians balk at such a view of Hell. I am a Christian, and I certainly do not want to believe in a deity who behaves like a patron in Eli Roth's Hostel. For my own part, I believe that any anguish experienced in Hell is of the mental kind, "a sense of loneliness, of having seen the glory and greatness of God, of having realized that he is Lord of all, and then of being cut off." [7] I have no biblical warrant for rejecting a physical torment component; I just find it difficult to philosophically sustain. [8] I do believe that any anguish experienced in Hell will be proportionate to one's misdeeds in mortality (Lk 12:47-48; 16:25; Mt 11:21-24), so in that sense, I believe in degrees of punishment in Hell. [9]
Why Hell?
Even a Hell that espouses emotional torment as opposed to physical tends to evoke a number of objections: (1) Why can't God simply forgive all and usher everyone into Heaven? (Universalism) (2) Why can't people repent and turn to God at some later point in the after-life? (Post-Mortem Evangelization) (3) Why must Hell involve anguish and suffering of any kind?
My difficulty with (1) is that it potentially violates free will. At its best, it presumes that everyone who is in Hell is there unwillingly and that no one would ever freely choose not to be with God. This seems unreasonable. As one of the characters in C. S. Lewis' The Great Divorce explained:
There are only two kinds of people in the end: those who say to God, 'Thy will be done,' and those to whom God says, in the end, 'Thy will be done.' All that are in Hell, choose it. Without that self-choice there could be no Hell. No soul that seriously and constantly desires joy will ever miss it. Those who seek find. To those who knock it is opened. [10]
At its worst, universalism makes God sound like a cosmic stalker who will not take "no" for an answer. By way of analogy, most of the women I know do not appreciate it when they turn down a man who has attempted to court them, and he continues to send cards and flowers and candy in an effort to change the woman's mind. Such a man is not respecting the woman's choice, but instead trying to force her through persistence to conform to his will. I am genuinely grateful to believe in a deity who respects our desires enough to allow us not to choose him, to allow us the option of Hell.
Very well, so God will not force us to choose him. So why not simply keep the option of choosing him open for as long as we need it? Can we not have the chance to repent and turn to him in the next life? Again, there is a serious problem with (2). If salvation can be obtained in the next life, what is the point of seeking it in this life? I cannot speak for others, but as a serial procrastinator, if I had the option of obtaining salvation in the next life, my way of worshiping the Lord would probably be the same as Homer Simpson's: "By praying like hell on my death bed." [11] Indeed, assuming the reality of eternal life and the existence of a divine creator, what is the point of mortality if our actions here do not lead to eternal consequences, for better or for worse? One could attempt to limit the chance for post-mortem evangelization to only those who did not have the opportunity to receive the Christian Gospel in this life, but then the Christian Gospel becomes as much of a curse as a blessing, for in spreading it, we take away the opportunities of others to receive it in eternity.
For the answer to the final question (3), on the necessity of anguish and suffering in Hell, I turn to Erickson:
[I]f God is to accomplish his goals in this world, he may not have been free to make human beings unsusceptible to endless punishment. God's omnipotence does not mean that he is capable of every conceivable action. He is not capable of doing the logically contradictory or absurd, for example. He cannot make a triangle with four corners. And it may well be that those creatures that God intended to live forever in fellowship with him had to be fashioned in such a way that they would experience eternal anguish if they chose to live apart from their Maker. Humans were designed to live eternally with God; if they pervert this their destiny, they will experience eternally the consequences of that act. [12]
For all of these reasons, I say "yes" to Hell. I believe in it, I believe it is permanent and eternal, and I believe consignment to Hell takes place on the basis of our actions in this life. While the spirit of this age insists that the doctrine of Hell is one of Christianity's weaknesses, I view it as a defensible doctrine and one of our philosophical strengths.
Endnotes:
————–
[1] Pun intended.
[2] Speaking from personal experience, I hear more about Hell (in the form of objections to it) from skeptical friends and other unbelievers than I ever have from the pulpits of my home churches.
[3] Rob Bell, Love Wins (San Francisco, Cal.: HarperCollins, 2011), 111.
[4] Timothy R. Phillips, "Hell," in Baker's Evangelical Dictionary of Theology, ed. Walter A. Elwell (Grand Rapids, Mich.: Baker Books, 1996), http://bit.ly/xSwgh3.
[5] Jonathan M. Lunde, "Heaven and Hell," in Dictionary of Jesus and the Gospels, eds. Joel B. Green,Scot McKnight and I. Howard Marshall (Downers Grove, Ill.: InterVarsity Press, 1992), 310-11.
[6] Ibid., 311.
[7] Millard J. Erickson, Christian Theology (Grand Rapids, Mich.: Baker, 1998), 1243.
[8] Dan. 12:2 does pair "everlasting life" with "everlasting shame and contempt."
[9] Likewise, I believe in degrees of rewards in Heaven.
[10] C. S. Lewis, The Great Divorce (San Francisco, Cal.: HarperCollins, 1973), 75.
[11] The Simpsons Movie, dir. David Silverman, 87 min., Gracie Films, 2007.
[12] Erickson, 1247.
Works Cited:
—————-
Bell, Rob. Love Wins. San Francisco, Cal.: HarperCollins, 2011.
Erickson, Millard J. Christian Theology. Grand Rapids, Mich.: Baker, 1998.
Lewis, C. S. The Great Divorce. San Francisco, Cal.: HarperCollins, 1973.
Lunde, Jonathan M. "Heaven and Hell." In Dictionary of Jesus and the Gospels, eds. Joel B. Green, Scot McKnight and I. Howard Marshall, 307-12. Downers Grove, Ill.: InterVarsity Press, 1992.
Philips, Timothy R. "Hell." In Baker's Evangelical Dictionary of Theology, ed. Walter A. Elwell. Grand Rapids, Mich.: Baker Books, 1996. Available from http://bit.ly/bdTMhH.
Simpson, Homer. The Simpsons Movie. Directed by David Silverman. 87 min. Gracie Films, 2007.
(Originally posted at Προστάτις)