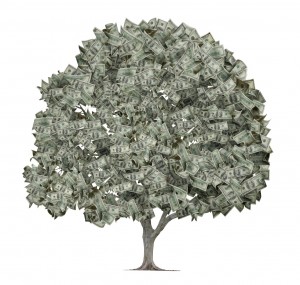 You are a single Christian parent and you have a goal of giving a fixed percentage of your income to God. [1] You are also either paying or receiving child support. When you calculate how much you intend to tithe, do you include child support payments received as part of your income? Or, if you are the one paying child support, do you deduct child support payments from your total income before calculating how much you are going to give?
Tithing and otherwise giving to God can be a touchy and personal subject. There is always going to be someone out there ready to condemn the amount you are giving or the parties you choose to give to. I want to advocate a position here, but first I want to say: if you've prayed about your giving, pondered it out, and are giving with a cheerful heart, I am not here to tell you that you are wrong. I firmly believe that God honors special circumstances and that there is no one right way to give or right party to give to. [2]
Got it? Good. Because, that said, my position is this:
The Christian parent who is receiving child support payments should not tithe on the child support.
The Christian parent who is paying child support should include child support as part of his/her income and tithe on it.
Why do I say this?
Here are my reasons:
(1) It's  already a "gift"—for the children. In theory, child support is provided in order to buy things for the children and support their needs. Clothes, toys, books, rent or payments on a larger residence, summer camp expenses, etc. It is the children's money, given to you as executor of it in order to allow you to provide for them. If you turn around and give their money to others, then you aren't using it to provide for them.
When someone gives you a book as a gift, do you go, look up the cost of the book, and then tithe 10% of the value of the book? I imagine most of us don't.  In the same way, you shouldn't tithe off of money that is given to you so that you can buy the children books (and other things).
(2) When you tithe on child support, you are paying a double tithe. Take an example: say that I (as the custodial parent) make $600 this pay period, so I tithe 10% of that and give $60 to my church. I also need to purchase a new bed for my daughter in the same pay period, a bed that costs $150, so I take $150 out of my paycheck to buy the bed, and then I give an additional $15 in tithes. Does that make any sense to you?
Neither does it make any sense when my ex-husband is the one who provides the $150 for the bed via child support. The single parent who is receiving child support should tithe on his/her own income only, and that brings us to…
(3) Child support belongs to the payor's income, not the payee's income. For tax purposes, in the United States at least, the payor is required to include child support payments as part of his/her income and is not allowed to deduct them in order to reach a lower income bracket. Likewise, the payee is not supposed to report them as income and pay taxes on them. As such, a tithe on the amount diverted to child support should be the responsibility of the payor, and s/he should pay it out of the income that is being kept after child support is paid.
Think of it as though the children were living with you and you were using your own income to buy furniture, clothes, and food for them. You would still tithe on that money. The only difference in regards to child support is that the children (usually) don't live with you. You pay a fixed amount and your children's mother/father/legal guardian gets to decide how that money will be spent.
Conclusion
As I said at the start of this post, my intention in writing this is not to condemn anyone. If you have prayed about your giving, and feel that you are following God's will for your life, I am not telling you to change. But in pondering this subject myself and searching for how others have answered the question, I have hit upon a lot of different answers, so I hope this can provide some clarity and direction for those who are unsure about the matter.
——————-
[1] The questions of "on the gross or on the net" or "what % should you give" isn't really relevant to this post.
[2] Full disclosure here: I am not at a place in my life or in my finances where I am able to divert 10% of my funds to giving. That is my goal though and I hope I get to that place soon.